WHY ARE WE THE WORLD'S No.1 DOWNHILL BIKE COMPANY FOR KIDS?
WE CREATE THE HOLY GRAIL OF THE DOWNHILL BIKE-WORLD….
At Meekboyz we provide the WORLD'S BEST downhill bikes for children. We help young people to achieve the goal of becoming high-performance downhill riders.
We have solved the biggest, current problem in kids' downhill riding and kids no longer have only to choose from B-grade bikes that they have the ability and skill level to outride. Our custom, full-suspension bikes offer significant and instant advancement in high-performance riding. We are creating new possibilities for our new riding generation.
At Meekboyz, our line is drawn firmly in the sand – kids NEED champion-quality  bikes.
Put your son or daughter on a Meekboyz bike and let their imagination and skill-level go wild!
STEVEN MEEK ( Designer & Founder)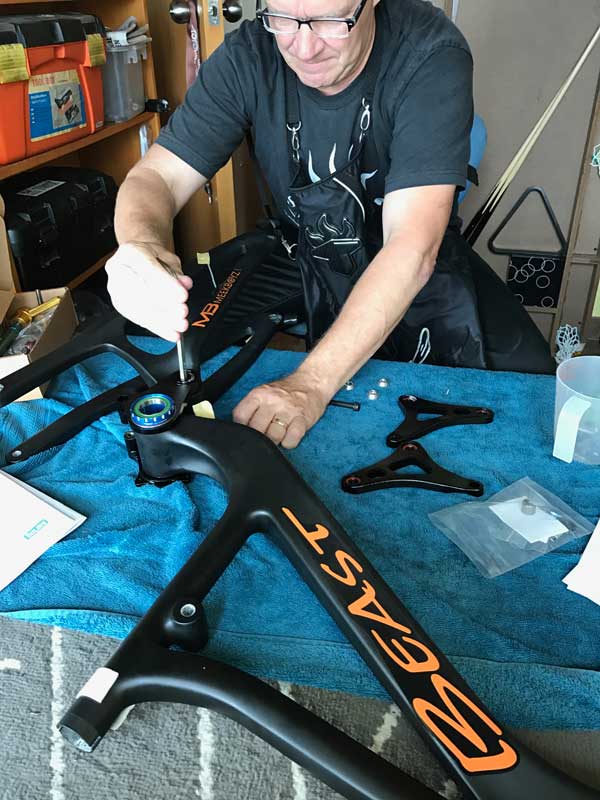 Meet the guy who is so insanely passionate about the building process of these carbon pro-bikes:
What is your riding & racing history?
In New Zealand, I raced BMX as a kid in the early eighties which later evolved into MX enduro racing in my teens. The natural evolution to Downhill riding followed and this has been my staple sport for the past twenty years.
What is your technical background in the bike industry?
Having a composites background and in response to frustration over an absence of high performance DH bikes for kids,  I built my first lightweight custom 20" downhill bike in 2009 so Toby could access the downhill trails. As both boys grew, I developed a customised 24" aluminium DH bike in 2012. This naturally evolved to full carbon bikes in 2016.
What motivated you to build the world's first high-performance bike brand for kids?
Disappointed and frustrated by the B-grade bikes currently being produced by the big, mainstream commercial bike companies, I wanted nothing less than a lightweight downhill bike that supports kids to develop downhill skills rapidly. Our carbon bikes are built to primarily address the serious high-performance gap that has existed in kids' mountain biking. Having the expertise to understand what provides the ultimate performance and rider comfort for young kids, these carbon bikes are equal to none and out-spec most adult DH bikes.
How are people responding to the new generation of bikes for kids?
Appreciation is high in the riding community. The old mindset that kids don't need quality bikes is quickly being replaced by a wave of like-minded parents who recognize and appreciate that skill acceleration requires top quality, lightweight bikes that don't take shortcuts with cheap components and materials.  Kids primarily need and deserve better quality bikes than adults in order to have a safer, high-performance ride. And now with these great bikes, they can easily outperform their parents!
Why is a correct bike size so important?
Over the years we see parents making the well-intentioned mistake of buying a bike that their child will grow into, however, this greatly hinders a child's riding skill development, especially in bike handling and learning to jump skillfully. It's like buying a pair of football boots a few years too large. By then children have missed 2-3 years of important skill development opportunities. Bikes need to fit kids correctly.
Do I really need to invest in a high-range mountain-bike for my child?
Concerns over the cost of a high-performance bike, become irrelevant once you can see what a child can achieve on a proper, full downhill bike. For families passionate about mountain biking, the bike cost is so similar to other high-performance kids' sports. Some families also spend similar amounts  travelling to Whistler or Morzine Bike Parks for holidays and gravity bike camps but after two- three weeks… it's all over. However, you buy a high-performance Meekboyz bike your child gets 4-5 years worth of riding enjoyment and advanced skill development and later you can resell the bike for 70-75% second-hand. The significant advantage to your child, and your pocket, is obvious. A like-minded set of parents appreciate these  considerations and would rather invest in the future of their child's riding development rather than settling for purchasing commercial B-grade mountain bikes with their well-known limitations. If the goals are advanced skill development and rapid riding progression then a high-performing bike is a no-brainer for families who ride downhill regularly.
Meekboyz, showcasing full downhill bikes for accelerated riding development…for kids with riding ambition