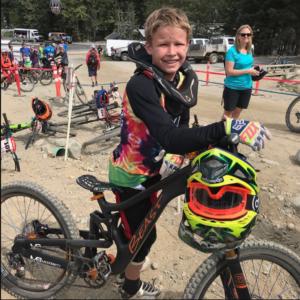 Rory MEEK  (2x) World #3 
Born: 4th January, 2007  (Dunedin, New Zealand)
Race ranks: W3, NZ1, NZ2, NZ6, HK1, Thai Open No.1
World BMX championships: Auckland 2013 – World No.3; Netherlands 2014 – World No.3; Belgium 2015 W20;                    Colombia 2016 W11
Sponsors: Thrill, Probikeshop.com, NP, Race Cube, Looseriders, MeekBoyz.com
Fav. ride locations: Queenstown, Morzine, Indonesia, Lenzerheide, Whistler, Chiang Mai Thailand
Riding heroes: Sam Blenkinsop, Rachel Atherton, Loic Bruni, Greg Minaar, Tracey Hannah, Vinny T, Nico Vink
Rory is a powerhouse bmx racer, having earned two consecutive World No.3 titles. A slick little downhill rider, he has been riding serious downhill trails on his custom bike since age five. Rory rides a 24″ MiniBeast. He loves speed and muscling steep, technical trails. Rory is a team rider for Loose riders.
Follow Rory on @rory_meek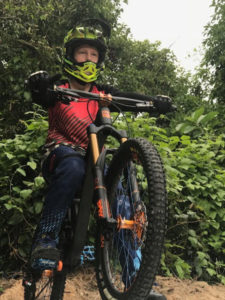 Toby MEEK  
Born: 27th December, 2004  (Dunedin, New Zealand)
Race ranks: HK1, NZ4, NZ10, NZ11, Thai Open No.2
World BMX championships: Auckland 2013 W33; Netherlands 2014 W33; Belgium 2015 W30; Colombia 2016 W33
Sponsors: Thrill, Probikeshop.com, NP, Race Cube, Looseriders, MeekBoyz.com
Fav. ride locations:  New Zealand, Morzine, Surabaya, Switzerland, Crankworx Whistler, Chiang Mai Thailand
Riding heroes: Mick Hannah, Sarah Walker, Aaron Gwin, Jack Moir, Cedric Gracia, Blinky, Brook MacDonald, Nico Vink
Toby is an instinctive downhill rider who has been riding serious downhill trails since his dad customised a 20″ lightweight DH bike for him at age five. He currently rides a 26″ MegaBeast DH bike with 200mm travel. DH riding is a major strength in Toby's riding skill-set. He boosts the 30ft table top, lipped section, in Morzine one-handed and independently clears Crab Apple Hits in Whistler with ease. Tobz loves boosting big air-time and is a team rider for Loose Riders.
Follow Toby on  @tobymeek27