Like Father, Like Son – Six Year Old Billy Tearing It Up On His MeekBoyz Mini Beast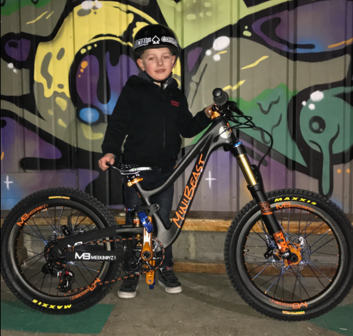 MeekBoyz are delighted to announce that the first Mini Beast has recently landed in the UK.  Six year old rider, Billy-Neil McVicar, took ownership of his new wheels recently and we had a chance to grab a quick chat with his Dad, Neil to find out about this young grom's plans for the future.
How old was Billy-Neil when he started riding?
Billy-Neil had a balance bike before he could even walk. When he was two, it took him about 10 minutes to transfer those skills he had developed to a two wheel bike with pedals.   
Is it a sport that you do as a family?
I raced as a schoolboy, worked in bike shops then moved over to bodybuilding in my teens.  Since Billy-Neil started riding, I've also taken it up again and love the freedom it gives as well as the opportunity to share a sport with my son.  
Where do you ride?
I mostly ride BMX for Northern Outlaws BMX race team in the UK, which I run together with Colin Anderson. Billy rides mainly on a BMX BMX, which is close to where we live. He has recently started to ride his MeekBoyz Mini Beast at a local indoor park.  
We ride every week at Danny Hart's Descend Bike Park in Hamsterley Forest. It's an awesome training ground with fantastic young riders including James Elliot, Joe and Luke Mumford and Aston Brown, who share tips and help Billy, which we really appreciate. 
When and where did you first hear about the MeekBoyz range of bikes?
I heard about MeekBoyz through a young man, James Tun, who worked at local bike shop where I bought Billy's first mountain bike. 
What made you decide to buy at MeekBoyz bike for Billy?
I bought Billy a Norco for Christmas, and had relatively low expectations of what he would achieve, however he rode the bike far better than I had hoped.  The issue was that although the bike had 95mm rear suspension, the 60mm upfront forks were untunable, so I began looking at where I could find a good quality lightweight rideable bike and came across the MeekBoyz Mini Beast.  At first I was shocked at the price, but when I looked at it properly, realised that it was good value considering the quality of the parts and design. I set about raising the cash by selling all my bikes, Billy's Moto X bike and ended up with the best 20" bike in the world! 
Huge thanks to Steve Meek for designing the bike and for support and input he offered both before and after I bought the bike. 
How is Billy finding the bike? Have you seen an improvement in his riding ability?
We've only had the bike for a short time, but his riding is insane! He is hitting six feet stair drops, big drop offs and doing full runs on Danny Hart's Descend Park. I don't believe that this would be possible for Billy on another bike. 
Do you have plans for Billy to compete in the future or is it just a hobby?
We definitely have plans for Billy to race. He's only been riding MTB since Christmas and is already signed up to race in March this year. With the support of the Northern Outlaws BMX race team, Danny Hart's Descend Bike Park and Endeavour MTB coaching and my very understanding wife and daughters, we are looking forward to seeing what Billy can achieve in the years to come!